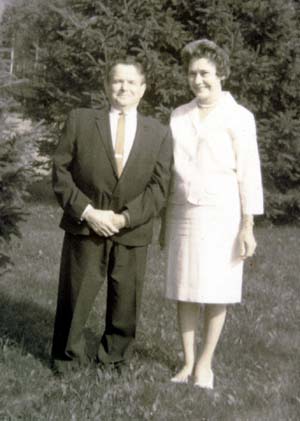 George Wilford Bottomley

Born October 17, 1903
Married May 21, 1931
Died May 11, 1977
Buried in Sunset Memorial Park Cemetery
Worked at the Straw Board Company, where they made paper from straw from the early 1920s. Then worked for Dr. Stroud, a chemist. Met Margaret Redman in Mt. Vernon, Indiana in 1930 and married her in 1931.
Had polio as a child which stunted his growth.
Attended Thompson School in Posey County, then attended Mt. Vernon High School. He later rode a trolley to Evansville to attend Lockyear Business College in Evanville where he studied business.
Moved to Nashville to follow Dr. Stroud, a chemist, who employed George. Then moved to Bowling Green, Kentucky to start a bakery that Dr. Strauss owned. They then oved back to Mt. Vernon after missing family and friends in the Mt. Vernon, area in the mid 1930s. They lived at Margaret's parents' home until they opened the Paragon, where they had living quarters as well.
Shortly thereafter they founded the Paragon in Mount Vernon in the mid 1930s. The Paragon was a very popular dance hall complete with live Orchestra on Saturday nights in the Mt. Vernon area. Margaret cooked food, including tomatoes she grew and chili and barbecue and hamburgers she made and served soft drinks at the Paragon. Margaret took care of the records and music as well. George took care of the books, bills, and business management. They sold ice cream to school kids, and maintained the business. They also ran a service station as part of the Paragon. They also employed large Indian bouncers to keep the peace. They sold the Paragon in October, 1943. It stayed in operation for several years. Click here to see the Paragon building in 2003.
After they sold the Paragon, they moved to an apartment in Mt. Vernon who they rented from the Forthofere's.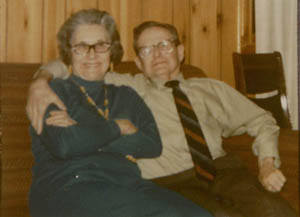 Robert Merle was born on May 9, 1944, and Lana Joyce was born on February 8, 1947. Margaret stayed home with the kids and was a homemaker from that point on.
They then moved into Helen & Marvin Cooper's house after they moved to Arizona so Jim Cooper's allergies would be better. Helen & Marvin allowed them to live there for free provided they kept up the house. George went to Indianapolis to learn to become a CPA and came back and opened a tax service in Mount Vernon. They moved to Evansville in 1948, 518 East Riverside Drive after George started working as a Realtor in Evansville for Curt Huber. He became a prominent Evansville realtor.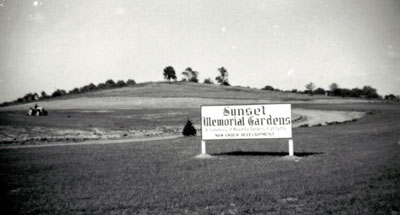 They then moved to 2201 Lincoln Avenue in 1964. George co-founded Sunset Memorial Gardens, a cemetery near the Evansville Airport. He sold funeral plots very successfully and became a record-breaking salesman.
George died on May 11, 1977 after he retired. He proved too ambitous to relax in retirement, exacerbating his heart problems.