I have been playing paintball and airsoft since I was a teenager. Airsoft is a military simulation game where you use weapons that fire 6mm plastic BB's at 'the enemy.' Both are good sports.. very enjoyable and an excellent way to get good excercise- and get a chance to shoot your friends. :-)
I have migrated more towards airsoft over the years for the following reasons:
1. The weapons are much more realistic, usually based on actual firearms. My Classic Army M15A4 actually has Armalite branding and has many interchangeable parts with real AR15s/M16s. Additionally the games are usually more oriented towards military missions / scenarios.
2. You generally don't have to mess with compressed air or CO2, which is a pain when you play paintball because you usually have to go somewhere to get your tanks filled.
3. The BB's are a LOT cheaper than paintballs, plus you don't have the temperature & humidity issues that you have with paintballs and storage.
4. You can use real equipment, radios, night vision, etc. and not worry about them getting damaged by paint, or having to clean everything up afterwards.
Here is some footage I put together of a few recent airsoft games:
Paintball is basically a game in which players don protective masks (to protect your eyes and face) and you essentially go play war. Players use paintball guns, or markers, to shoot one another with paintballs- or gelatin capsules (like medicine) filled with non-toxic water-soluable paint. The paintball guns are powered by compressed CO2 or compressed air, which is released when you pull the trigger. Paintballs are propelled, typically, at 300 feet per second.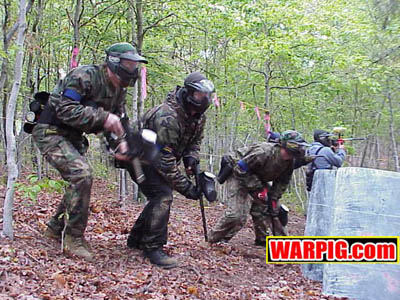 Contrary to what you may think, paintball is one of the safest sports out there, provided the rules are properly observed. Paintball is far safer- and has a much lower injury rate- than games such as baseball, basketball, football, or even golf.

I've owned various paintball guns and a plethora of equipment over the years... including a Brass Eagle Stingray, a Kingman Spyder, a Tippman Model 98 (later converted to full-auto), an Airgun Designs Automag (also converted), a WPD Angel IR3, and finally a WDP Angel Speed (black dust finish). I have also converted from using CO2 to compressed air, which is much more consistent and clean.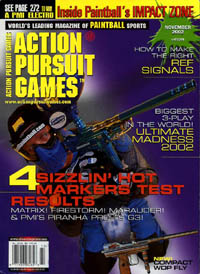 If you're interested in getting into the sport, you can find a ton of paintball information at The Warpig Paintball Page which has been around since the earliest days of the commercialized Internet. In fact, it was one of the very first web sites I remember visiting, back in 1993.
Also, check out Action Pursuit Games online- they have a ton of great articles about paintball online, and a great magazine offline if you decide to subscribe.
An Angel Speed in black dust, like mine: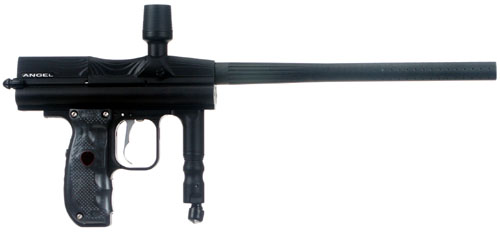 I also use a Nitro Duck 4500psi compressed air tank, a Viewloader 12V Revolution hopper.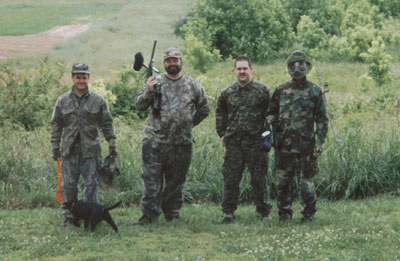 Here we are, getting ready to play. From left to right: My brother Mark, my uncle Dave, myself, and my dad, Bob.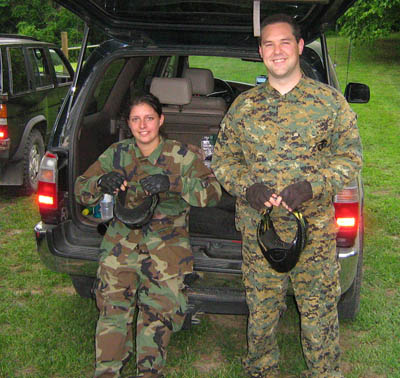 Heather and I, getting ready for a paintball game.