David's 2006 Lexus GX470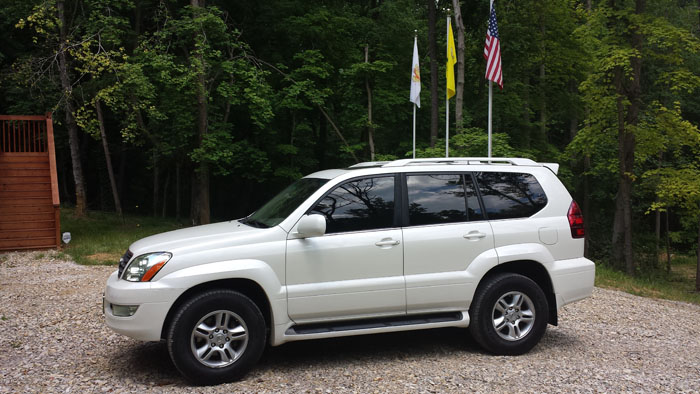 In 2013 the old LX470 was beginning to show it's age with over 150,000 miles. That said it was still in great mechanical condition and had no major issues, aside from some paint fading, but rather than pay to have it repainted, I traded it in on a 2006 Lexus GX470. It has the same engine as the LX but is about 600 lbs. lighter, 4" shorter, and 2" narrower. It retains the same off road capabilities as the LX but it's on a 4-Runner chassis. Fortunately this one came with window tint and an iPod adapter so I didn't have to do much. I did update the navigation system maps, and of course install my Escort 9500ix radar detector, but I've been very pleased with the GX so far.
Heather's 1999 Lexus RX300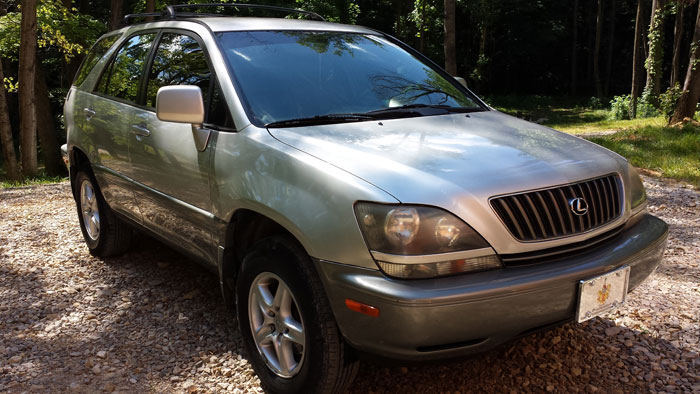 We traded in Heather's 1994 Lexus ES300 on a 1999 Lexus RX300. We of course we tinted the windows and had some other brake and mechanical work done just to make sure everything was in good shape. It's been a great vehicle thus far!
Past Vehicles
David's 2000 Lexus LX470 (sold 2013)
When my 1998 Toyota 4Runner had an unfortunate meeting with a tree and lost, we had to start shopping for a replacment vehicle. I knew I wanted an SUV, and I knew I wanted a Toyota, or ideally, a Lexus. The ride, drive, and amenities in Heather's Lexus had completely spoiled us, so I was looking for a Lexus SUV if we could afford it. Lexus vehicles of course are built with Toyota quality and then some. We started looking at Lexus LX470s but they are fairly hard to find- afterall, they are the Lexus top of the line, and therefore just about the best vehicle on the planet, and they should be for a $70,000 price tag. Obviously, I couldn't afford a new one, so we were looking at older models- mileage means nothing to me, when you're talking Toyota/Lexus. They go forever. We found this one at Land Rover Knoxville, a trade-in, 2000 model with only 90k mi. We talked them down some in price then drove down to purchase it. Wow, is all I have to say. I have never ridden in or driven such an awesome vehicle in my life. I love it. With it's 4.7L V8, I don't get the gas mileage that I got with the 4Runner, but the ride is immensely better- super smooth- like riding on a marshmellow, plus it has all kinds of awesome features that make it a Lexus. Heather and I were literally whispering to each other across the spacious cabin on the drive back on the Interstate as we were going 80mph. They are based on the Toyota Land Cruiser chassis, and feature all of the legendary off-road capability that goes with it. They have added a number of Lexus ammenities and even more off-road features that truly make it the best vehicle in the world. Unlike my 4Runner, which in 4 wheel drive, only had one front wheel and one rear while biting, the Lexus- utilizing a locking center differential, limited slip rear differential, and TRAC- a braking/throttle traction control system- ensures that ALL four wheels are engaged- resulting in extraordinary traction and pulling capability. I've witnessed this first hand, as I've driven it on ice that I couldn't even stand up on- and I couldn't get the LX to so much as slip. These things are built like tanks- and is one of the heaviest vehicles on the road. I've seen damage photos where multiple cars have been totalled by a wreck with an LX, and the LX receiving only very minor cosmetic damage. I've also heard stories of Toyotas and Lexus surviving massive hail storms (baseball sized hail) with nary a scratch while all other vehicles sustained major body damage. This is, of course, due to the high grade Japanese steel and the thickness / quality that Toyota uses. The superior quality and engineering is obvious.
Factory:

Leather Seats
Power Windows (one touch)
Power Locks
Power Mirrors (w/ electronic folding)
Heated Mirrors
Power Moonroof
Power FM Antenna
Power Seats w/ Memory
8 Passenger Seating
Rear Heat/Air w/ Thermostat
Auto Air Filtration System
Heated Seats
Power Steering
Auto Tilt/Telescoping Steering Wheel
6 CD Changer
Tape Deck
Factory Alarm System
Fog Lights / Driving Lights
Automatic Height Control
Adaptive Variable Suspension
Full-time All-Wheel-Drive
Locking Center Differential
Limited Slip Rear Differential
Traction Control
Vehcile Skid Control

Aftermarket:

20% Window Tint on Front Windows
35% Tint on Rear + Factory Tint
Class III Hitch & Light wiring
Pioneer AVIC-Z2 GPS / Audio system combined with factory premium Nakamichi speaker system
Escort 9500i Radar Detector
Viper 5701 LE 2-way Alarm System w/ Remote Start

Reviews:

Lexus- The Pursuit of Perfection Commercial



Western Australians with a Land Cruiser and an LX470

While they manage to get both vehicles stuck by putting them into some extreme mud, you can see the traction control on the LX470 at work, which definitely gives it an advantage over the Land Cruiser. When all 4 wheels are turning, there is nothing more the vehicle can do. Note that the vehicle width/height proportions in this video are not quite right due to PAL/NTSC conversion issues.
Heather's 1994 Lexus ES300 (sold 2009)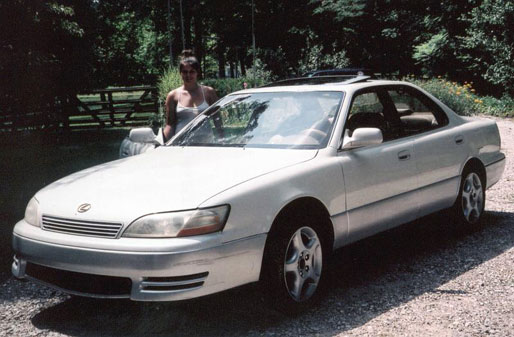 We purchased Heather's 1994 Lexus ES300 off of eBay and made several improvements to the vehicle and fixed some small issues once we purchased it including some body and mechanical work, and of course we tinted the windows. It's a great riding and driving vehicle- with that special Lexus touch that takes it a step beyond a Toyota Camry.
Factory:

Leather Seats
Power Windows
Power Locks
Power Mirrors
Power Moonroof
Power FM Antenna
Power Seats
Power Steering
Heated Seats
24k Gold Trim
6 CD Changer
Alarm System
Fog Lights

Aftermarket:

JL Audio 12" Subwoofer & Amp
20% Window Tint
LED Front-Lit Dash Lighting

Lexus Moments Commercial

1998 Toyota 4Runner SR5 (sold 2008)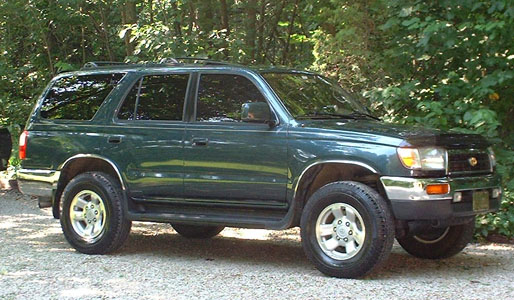 Unfortunately, in February of 2008, during an ice storm, I fishtailed my 4Runner around a corner on a patch of ice- I had recovered and straightented the vehicle but by that time it was sliding downhill and off the road toward a tree. The entire incident took place slowly, but it was just fast enough to cause sufficient damage to total the 4Runner, with parts being expensive as they are today. Here are some damage photos: Photo 1 Photo 2 I took the 4Runner to a reputable local repair shop, who quoted $8200 to replace the passenger door, liftgate, rear quarterpanel window, the quarterpanel, and the roof (which unfortunately also sustained some dents and put the price over the top). Bluebook was around $8600 but State Farm Insurance actually gave me more based on the excellent condition of the vehicle for it's age, tire quality, and aftermarket equipment. I must say, I was dreading the insurance claim experience, but I was very happy with how easy State Farm made it. I had a settlement check 4 business days after the incident. With that kind of service and their excellent rates, I plan on remaining a loyal State Farm insurance customer. Fortunately, I was able to buy the 4Runner back from the insurance company, and my parents are going to purchase and repair the 4Runner as much as possible, without replacing the roof/quarterpanel/liftgate. It will have some dents, but otherwise is still a great vehicle that runs great and rides great and only has 146k mi. on it, so as those of you with Toyotas know, it will easily reach 300k mi. and then some.
Factory:

4-Wheel Drive
Leather Seats
Power Windows
Power Locks
Power Mirrors
Power Moonroof
Power FM Antenna
Running Boards
Roof Luggage Rack
Class 3 Hitch
Rear Heat
24k Gold Trim
Rear Window Tint (20%)
Alarm System
Fog Lights

Aftermarket:

Driver/Passenger Window Tint (20%)
Kenwood CD/Tape Deck
Yaesu FT-90 Dual Band Ham Radio
PA/CB & PA Speaker
Bearcat TrunkTracker II Scanner
800W Power Inverter
Laptop Mount
Viper Alarm / Remote Start
Whelen Strobe Strobe Light System
Glassmount CB Antenna
Glassmount 2m/440 Ham Radio Antenna
Glassmount Wideband Scanner Antenna
Glassmount Cellular Antenna

This is not my 4Runner, but still shows what they are capable of...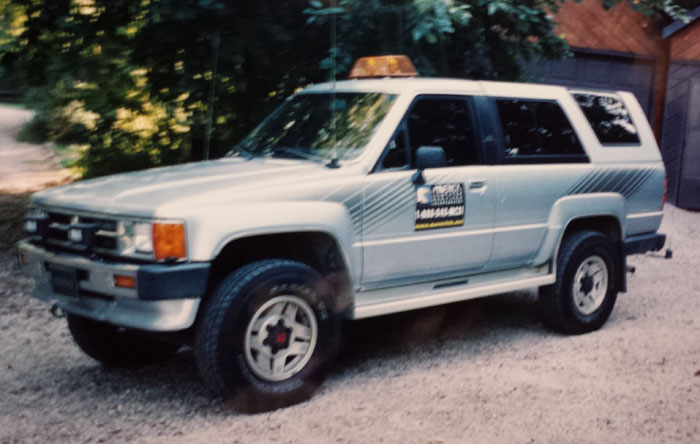 1988 Toyota 4Runner SR5 (sold 2000)
The deciding factor for my purchase of a 4 wheel drive vehicle, was that in 1994, I was completely isolated by a snow storm that produced about a foot of snow and 5' drifts. My Beretta was trapped- even though it was front wheel drive, and didn't do too badly in the snow, it didn't have the necessary ground clearance or overall traction. I decided I would invest in a much better quality vehicle too- a Toyota 4Runner. Toyota's are of course legendary for their reliability, quality, capabilities, and toughness. I loved that 4Runner- I added an aftermarket stereo, subs, speakers, window tint, etc. I also had a CB, and ham radio installed, as well as my scanner. I pulled many people out of the snow with that 4Runner. It did a great job in snow and other inclement weather conditions. At 115,000 miles, I had a strange problem- the head gasket was leaking. I took it to the local Toyota dealer, and even though the vehicle was well out of warranty, and I didn't even buy it from a dealer, the Japanese Toyota reps happened to be in town and were inspecting the dealer, and all the vehicles they were working on. When they came across mine, they said 115,000 miles was far too few miles to be having a problem like that, so they instructed the dealer to repair it completely under warranty. That experience, as well as owning that quality vehicle, cemented my loyalty to Toyota. They are a company that truly believes in and stands behind their products.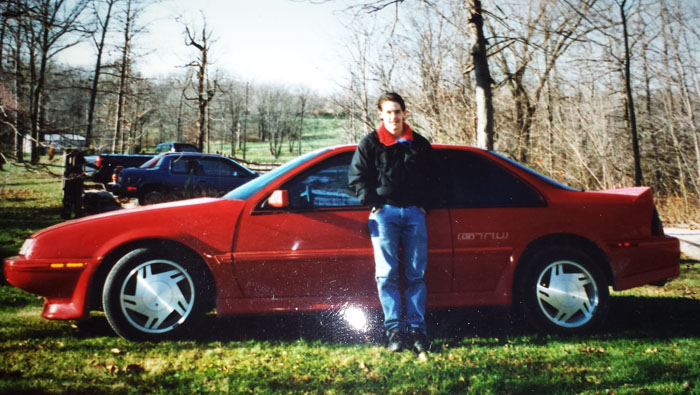 1988 Chevrolet Beretta GTU (sold 1998)
I purchased an '88 Chevy Beretta GTU with the proceeds from selling my VW Van. I added my scanner, subwoofers, window tint, etc. to the Beretta and drove it until it was nearing 100,000 miles, and like many 'American' vehicles of the time, it began to self-destruct with various itermittent electronic and engine problems, etc. so I decided I'd better sell it before it completely konked out. One thing that was particularly annoying with this vehicle was that, while it performed quite well most of the time, it had only a 3 speed automatic transmission (no overdrive) meaning that it ran at approximtely 3000rpm on the highway- not good for a V6 if you wanted it to last any time. Nevertheless, it was a cool car, and fast.
1972 Volkswagon Van (sold 1997)
I purchased the 1972 VW Van in a state of disrepair from our next door neighbor for $100 when I was 14. Over the next couple of years, I fixed it up and put a lot of work into the vehicle including fixing many rust spots on the body, repainging the vehicle, tinting the windows, working on the engine, recarpeting the interior and adding seat covers, adding a stereo system, etc. I sold it when I was 16 for $1950. The VW Van was a great vehicle- certainly a lot of fun, but I sure welcomed air conditioning in my next vehicle.
Site Copyright &copy2016 David A. Bottomley