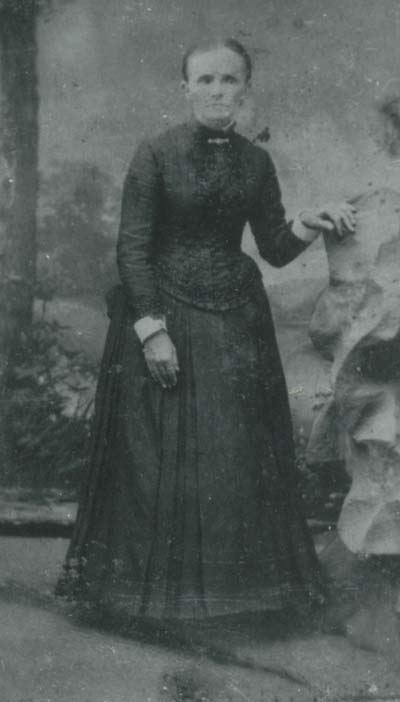 Lydia Jane (Knight) Bottomley
Born October 11, 1846
Married James Monroe Bottomley
Died August 14, 1885 while having twins due to childbirth complications. Buried in Black's Cemetary in Mt. Vernon, Indiana
See Tombstone
Children of James Monroe & Lydia Jane Bottomley: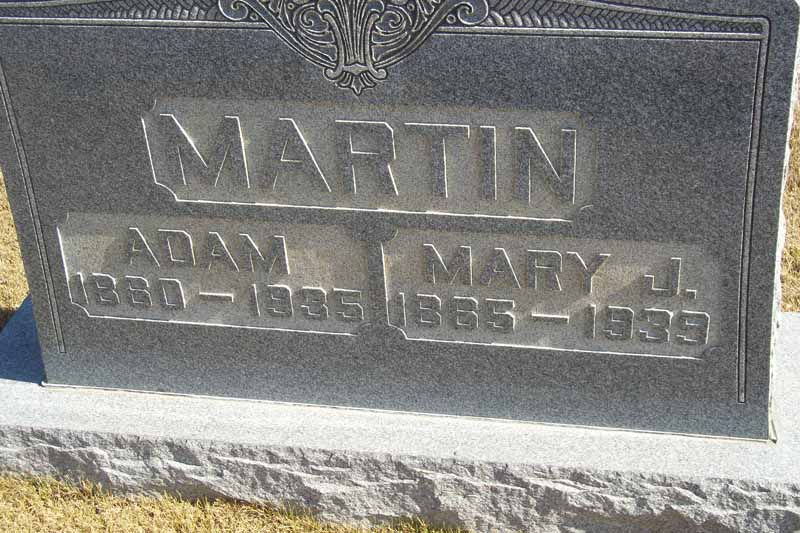 Mary Jane (b. May 10, 1865 d. Nov 8, 1939) - married Adam Martin (1860-1935) and beget John, Stella (homesteaded in Idaho), Mae and Lee.
Buried in Mt. Pleasant Baptist Cemetery in Posey County, Indiana.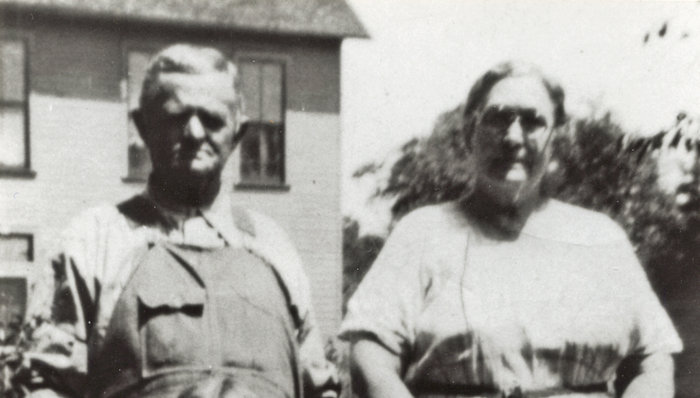 Samuel 'Edward' P. (5/12/1866-8/17/1940) - was born and raised on his father's farm in Black Township. He married Mary 'Louisa' Culley in 1890, and had no children from that marriage. Ed was said to have enjoyed having a lot of family around him. He liked to sit out under a tree in front of his house and tell stories or listen to his wife 'Lou' play the accordion. Though Ed's wife could not have children, Ed did have children with a woman who had divorced her husband about 1913. Ed and Nellie (Allyn) Barton (1892-1962), had five children together. Ed may have divorced his wife Mary Louise, if so, they remaried later in life. He lived with Nellie for about 8 years. They may not have married. Ed died in 1940 at 820 Sycamore in Mt. Vernon; his death certificate lists contributing cause of death to gangrene of the toe and the mortuary card lists heart trouble. Children from his relationship with Nellie: Lydia Elinora (Twin) (1914-1998), Nettie Lucile (Twin) (1914-1992), (Still Living), (Still Living), Robert (Stillborn) (1923-1923) This information was courtesy of Troy Schmidt, grandson of Edward Bottomley and Nellie Allyn. Ed is buried in Black's Cemetery in Posey County, Indiana.
James 'Thomas' (1867-1947) - married Fannie (last name unknown) and beget Floyd, Myrtle, Hazel, William, and Edward.

Aaron Wesley (April 6 1877 - June 23, 1933, buried in Bellefontaine) - married Pearl Orilla Alldredge (June 22, 1855 - Dec 5 1958, buried in Bellefontaine, mother was an Anderson), and beget Lena, John, Ellen, Bertha Louise, Fayetta, Lavita, Donald, and Glendola Fern who drowned as a child (1921-1935), buried in Bellefontaine).

Oscar Richard (1874-1928) - married Gertrude Miller

Laura Bel (1876-1949) - Laura married Thomas Stevens and had a son, Granville. Granville went on to drive a street car from Mt. Vernon to Evansville, had a boy named Charlie still living in Mt. Vernon and had twin girls that he drowned when he drowned himself.

Eliza Ellen (b 2/5/1869 in Mt. Vernon, IN d 1/12/1949 in Grangeville, ID) married John C. Cash (1860-1946), moved to Idaho, and beget Walter, Guy, Edward, Laura and Emily. Eliza is buried in Pravie View Cemetery in Idaho County, Idaho.

Ida 'May' (9/10/1882- 7/29/1900) - married William Burrows and beget Russell (died 1971, wife Nellie died 1981), Elbert (aka "Red") and Mary Louise. They then moved to Grangeville, Idaho. William, Ida May and Elbert are buried in the Prairie View Cemetery in Grangeville, Idaho. See pictures courtesy of Lynne Burrows.

Lydia Ruth - born in 7/12/1872 and died 5/15/1893 and was buried in Bellefontaine Cemetary in Mount Vernon Click to See Headstone.

Joseph William - born November 1, 1870 and died February 24, 1889 and is also buried in Bellefontaine Cemetary.
According to a letter written in 1909 to James Monroe Bottomley, from his cousin Samuel Bottomley in Rochdale, Lancashire, England, two of James' Children were stolen by Indians after they burned his house. See the letter (4 pages)