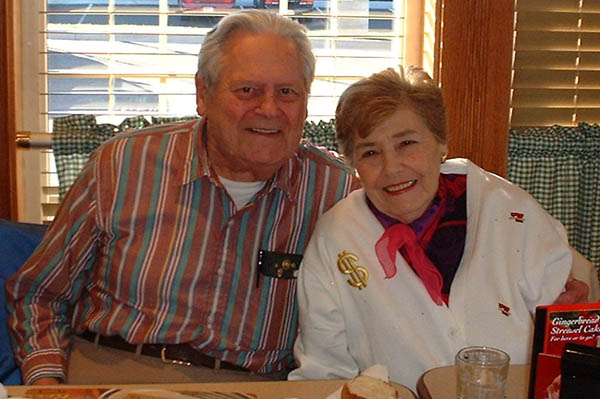 John Deforest "Jay" Ary

Born June 20, 1921 in Evansville, Indiana
Died December 12, 2005 in Mt. Vernon, IN.
Buried in Park Lawn Cemetery in Evansville, IN.
Married Mary Evelyn Dixon on September 15, 1939.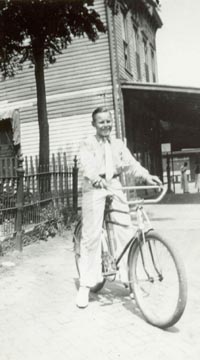 John Deforest Ary (called "Jay") was born on June 20, 1921 on West Columbia Street near the Black Cat Tavern (on Maryland St) and Koch's Park (on Columbia St) in Evansville, Indiana. His mother, Sadie, was 49 years old when he was born and he weighed fifteen pounds at birth. He was raised by a "Black Mammy" because Sadie had so many chores trying to raise 13 children. Sadie used to draw water from a concrete well by the concrete porch. Thomas & Sadie got a cow when Jay was a baby for milk. They also raised chickens. They had a player piano and sang along with it for fun. They were poor and in order to heat their house, they used to go down the street to the railroad track just before you get to Franklin Street Bridge- the railroad round table, where they would work on the train. The engineers knew that they needed to heat their house, so they threw large pieces of coal to the side out of the coal car on the trains. The kids in the family would then take wagons down there and load up the coal to heat the house. This continued for years. Across the street on Fifth Ave between Columbia and Maryland St. they used to have traveling medicine salesmen who sold Linament and Tonic and had black-faced minstrels that sang & danced. Behind their house was a dump, and on the other side was a row of black's houses. Jay was raised by one of the black families.
For entertainment they went to Koch's park which had carnival booths and rides, a swimming pool and slide, and even a closed in carousel that they could ride both in the summer and the winter. They also went to baseball games, and went to the natural salt pool near where WIKY is now. They also went to Mesker Park Zoo where everything was free. They went to the Columbia Theater at Fulton Ave & Columbia St to see movies. Jay almost got hit by an electric car when he slipped on the ice on the way to the movies when he was 4 yrs old.
Evansville was known as the world's largest furniture producers, so there were many furniture factories. They would take lunches to the men who worked in the factories. Maryland & Fulton Ave was Buchenberger's Confectionary where they purchased fireworks, ice cream, popcorn and other goodies. On Fulton Ave between Maryland and Columbia Streets was Atlas Clothing Store.
They moved from Columbia St to a mansion on 905 W. Pennsylvania St owned by the Strichers, a wealthy west side family. They rented the house from the Strichers for $10 a month. This house had a large porch with columns with an iron fence around it. It had four large rooms down stairs with sliding doors and a half bath. Upstairs, it had 4 rooms with a full bath. It had a whole row of nice buildings from the back of the house to Indiana St on the left side of the house for storage. There was a big garage in the back with 3 horse stalls and one car stall. Tom (Jr.) came home from the Navy and bought Thomas a Model T Ford and when Thomas drove it home and into the garage, he was used to saying "Whoa!" to the horse teams to stop and he tried it with the car, but it did not work. He drove it right through the front wall of the garage! :) Julia's youngest son, Leander started a fire and burned all the storage buildings down by accident. Toward Indiana St, they had concrete ash pits where they dumped the garbage and ashes.
Thomas worked construction on the twin bridges between Henderson and Evansville and he fell off of the bridge. He was injured in the fall and was crippled from then on. He could get around but was unable to work. He bought whole loads of produce from farmers and sold them to the public or traded the produce for homebrew and rootbeer. The women and girls canned vegetables, had barrels of brine pickles and sauerkraut. Thomas made beer and rootbeer and traded and sold it when Jay was 5 or 6 yrs old. They were so poor that Dad had to put cardboard in our shoes to keep our feet from touching the ground. The kids had to go to Carpenter School to have breakfast of rolls and milk because his parents could not afford it. During the time of the Depression, Sadie made sandwiches and they bought wholesale candy bars and "great big" apples and cheese chrackers, etc and all of the kids went to all the factories to sell these goods to the workers and WPA employees. Some of the girls worked at the telephone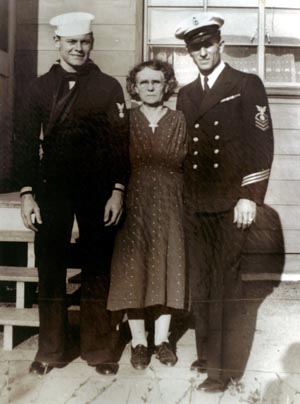 Co and others worked at the Bernardin Bottle Works where they made cans for vegetables. At that time, you had to be careful about tomain poison since the cans were just tin inside and not coated as they are now. They had Dainty Wagons--little wagons that they pushed around that had small rolls of ice cream that they sold for about 2 cents a piece. Then they moved next door to 907 W. Pennsylvania St (next door to Walter Weldon's Restaurant). They used to go into the restaurant and sit down at long tables and eat all they wanted for 25 cents. Triple decker ice cream cones were 5 cents. Candy was 5 cents a bar and they were 1/4 lb bars. Airplanes used to drop thousands of coupons all over the city from the sky and they were good for a candy bar. Back then, they did not have ice boxes or refrigerators, so they put their food in a window box attached to the house, outside the window. Also, it was so hot outside at night that no one could sleep, so everyone took blankets and pillows to the parks to spend the night.
At Willard Park, they had free ball diamonds, horseshoe stalls for pitching, stands where they sold sandwiches, soft drinks, popcorn and tennis courts. In the little market across from their house on Pennsylvania St, they had Kroeger Store and Diamond Island merchandise. It had a section that sold canned goods. It had a dry store that dealt in dried beans, coffee, coffee beans, dried peas, and other dried vegetables. Farmers all came in and had stalls outside on Pennsylvania St and Market St.

Jay went to Fulton School in kindergarten then transferred to Carpenter School in kindergarten. He graduated from eighth grade at Carpenter School then went to Central High School and joined the Navy in 1939 at 17 years of age and graduated from Central High School in 1947, due to accrued credits from the Navy.

In the Navy he was trained at Great Lakes Naval Base and was transferred to the USS Helena at Brooklyn NY. His brother, Tom met him at the transfer station and got him transferred into the electrical division under him. The USS Helena went to Argentina, Brazil, up and down the East coast and to Uruguay, Cuba, the Panama Canal zone, San Francisco, and to the Mare Island Naval Shipyard. They went to Hawaii and he was on the USS Helena where he was wounded at Pearl Harbor on Dec 7, 1941 by the Japanese surprise attack. The Helena took a torpedo which they patched up, then slowly took a convoy back to the states and went back to Mare Island Naval Yard. All of the crew was sent home for 30 days while they reconditioned the ship. When they went back to the ship, they left for Hawaii again and then to the South Pacific to the island of Espiritu Santo. He then went back to San Diego on an ocean liner and went to sound & motion picture projection school. He was then the official projectionist on the USS Helena. They then went back to Espereto Santos, where the men could go ashore, but had to be protected at machinegun point from the cannibals on the island.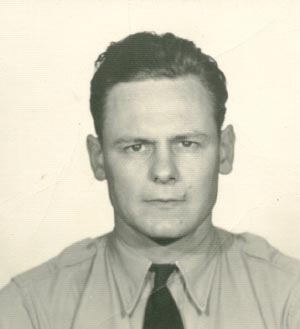 The Long Island converted carrier was also in port, along with the USS Helena and two Destroyer escorts. The USS Wasp was torpedoed and some of the survivors were rescued by the Helena. Five Sullivan brothers were lost in an attack. After that event, all brothers were split up, so Jay left the Helena and was was then transferred from the to the USS Hamul where he was the only regular Navy man (non-reserve) on the ship. He was then transferred to the Naval Transfer Station in New York, NY. He asked for a week off, then they moved him to Washington D.C. to the Naval Yard on shore duty. He was then sent to the Naval Hospital in Bethesda, Maryland due to a nervous condition. After a few months, he took an honorable medical discharge with 10% disability and came back to Evansville. 2 days after coming back to Evansville, he went to work at the Evansville Missouri Valley Naval Yard as a naval inspector.

As to employment history, his first job was a paper route for the Evansville Press when he was in grade school. He then worked for the Rival Packing Co. distributing dog food throughout the tri-state. When he was working for the Rival Packing Company he left a can of dog food in the icebox. Then Tom Jr. came home (when no one else was home) and was hungry so he made sandwidches. As he and everyone else later were eating them they all commented about how good it was, so they looked to see what meat he had used when the all realized they were eating dogfood and that it tasted great! :) During high school at the National Youth Adminstration in the office. He also worked at Woods Drug Store at Haynie Corner during his teen years. After the Navy, he worked as a Naval Electrical Inspector with the Missouri Valley Iron Co on the LST's and from there, he worked for Pan American Wallpaper & Paint Co as a stock man and manager of two stores, one in Ft Wayne, IN and one in Evansville, IN. He took his training in Louisville, KY. He refused a job as the Pan American District Manager for 13 states because it would have required too much time on the road and too much time away from his family. He also refused a job to be transferred to Marion, IL with Pan American for the same reasons. He then accepted a job with Brinks Armored Car where he earned $49 for a six and a half day week. After three years, he quit there and became a letter carrier for the Post Office, where he carried mail for 25 years. He retired in 1977 with a combined government service of 30 years (18 mo as an electrical inspector for the Navy, 4 years with the Navy, and 25 years at the Post Office).

Click here to View Newspaper Articles about Jay's Involvement at Pearl Harbor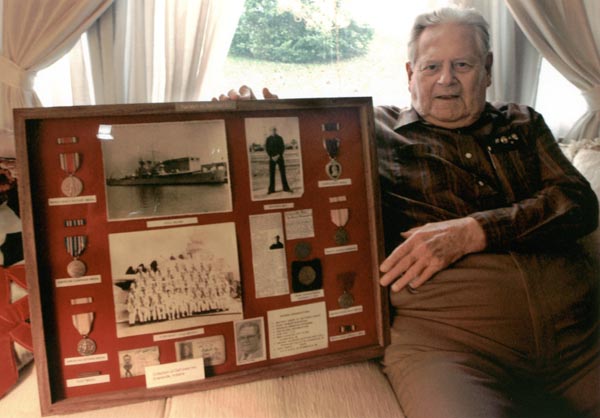 The USS Helena Organization also has a web page about him here
Lived on Allen's Lane in Evansville, Indiana in 1944.
Moved to Louisville, Kentucky in 1945.
Moved to Fort Wayne, Indiana in 1946.
Moved to Grand Rapids, Michigan in 1946.
Moved back to Evansville on Indiana Street in 1947.
Moved to 4619 Pollack Ave. in 1948.
Then built a house on 4615 Pollack Ave.

Children:

Charles Ronald Ary was born February 8, 1941 in Henderson, KY.
Ron married Judy Kay Browder (born 4/11/1940 in Evansville, IN; father Joseph E. Browder; mother Maby Lillian Krug) on April 28, 1962.
Children:

Ronny Lee Ary was born May 10, 1963 in Evansville, IN. Died in car accident on September 19, 1987 in Evansville, IN.

Richard Lee Ary was born November 18, 1965 in Evansville, IN. Married Betsy. Then married Renee. Later married Sandy.
Children from Besy:
Jennifer

Children from Renee:
Tiffany
Richard

Patricia "Tricia" Lynn Ary was born April 1, 1972 in Evansville, IN. Married Victor Barr.

Janis Marie Ary was born July 11, 1946

Don Deforest Ary was born July 14, 1954 in Evansville, IN.
Don married Dianna Lee Stepro in December 14. 1971 (born 8/4/1954 in Evansville; father William Stepro; mother Veva Robinson; Divorced in 1987.
Don later married Diane (Knapp) Zehner on 1990.

John Clinton "Clint" Ary was born July 5, 1972 in Evansville, IN. Married Amy McConnell. Later married Harmony Olsen-Southerland.

Children by Amy:

Serena

Steven Deforest Ary was born September 23, 1974 in Evansville, IN.